Spot skylights made
in the Czech Republic

Skylights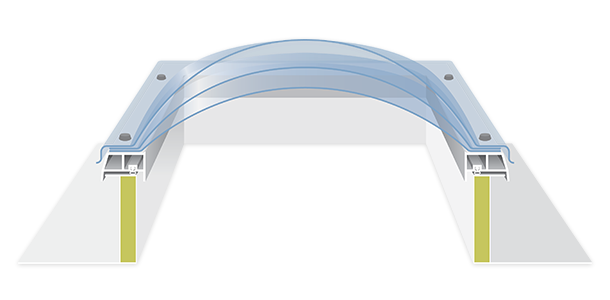 Outstanding thermal insulation
Insulating upstand with 20-60 mm thick polyurethane foam
Hardened PVC opening frame
SKYLIGHTS
Skylights ensure constant illumination and ventilation in both homes and industrial buildings
They are suitable for newbuilds and renovations, for office and industrial settings, warehouses, shopping centers, apartment blocks, houses, garages and annexes.
Domes
Upstands
Accessories
PLASTIC PANELS
We offer formatted plastic panels of any size:
Acrylic (PMMA) - polymethyl methacrylate, often known as plexiglass, is especially sought after for its optical properties. It is highly transparent, even in thick sheets. Cast acrylic sheets are uniform in tension from their surface to their center, so they are recommended for complex mechanical or heat processing. They are available in a wide variety of colors. Extruded acrylic, on the other hand, is lower priced and has better thickness tolerance.
Solid polycarbonate - a highly transparent material, which is printable, useable in a wide range of temperatures, and has outstanding properties for thermoforming.
Chambered polycarbonate - a lightweight structure enabling easy transportation and lifting. Excellent light transmittance and heat and sound insulation. The chambers can be arranged parallel to each other, or in a strengthened version with the chambers arranged in an X shape.
Make an inquiry here
OUR REFERENCES
Puloplastics s.r.o. has a proven record of fulfilling orders for skylights and related products. Here are some of our references: